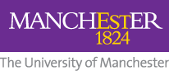 Home
Postgraduate Summer Research Showcase
2019 Timetable
Displaying the breadth of Manchester's research
The showcase event on Wednesday 12th June 2019 will once again demonstrate the diversity of postgraduate research across the University of Manchester with the best PGR and PGT images and a poster exhibition spanning the three faculties.
The showcase will be held in the Whitworth Hall and Christies Bistro (numbers 50 and 58 on the campus map).
Timetable
13:30 – 14:00 Image Gallery and exhibition stands available for viewing (Christie's Bistro)

Plant and Hope (Whitworth Hall)

14:00 – 16:30 Poster Session

16:30 – 17:00 Tea/Coffee/Cake Networking

17:00 – 18:00 Showcase Awards and MDC Excellence Awards

3 Minute Thesis Finalists to present (Selection of 3)
Refreshments and nibbles will be available throughout the event.