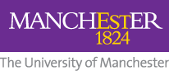 Home
Postgraduate Summer Research Showcase
Poster Guidance
What is a poster presentation?
Poster presentations are a way of explaining, promoting and advertising your research using a large visual display (i.e. poster).
What are the advantages of poster presentations?
The unique feature of poster presentations is that they allow you to communicate your work in a very personal manner that is tailored to each individual visitor at their own level. From specialists familiar in the subject area, to people simply curious to know more, a poster can be the starting point for some very insightful conversations.
The deadline for poster submissions is Friday, 1st May 2020.
For more information...
The poster is basically an outline of what you want to talk about.

Matthew Rosser, Postgraduate Researcher